Black Bear Singers
Black Bear Singers is a drum group from the community of Manawan, of the Atikamekw nation in the province of Quebec, Canada. We began in the year 2000, and our style is northern contemporary. We are very proud of our culture and our heritage, as well as our language which is still commonly spoken today. We are proud to sing for you our memorial song "Kokom" in honour of our spiritual grandmother, who has always told us to sing, to try hard, and to never give up. We carry her always in our memory.


OUR MUSIC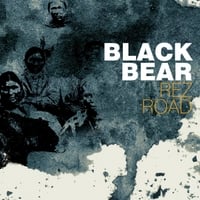 Rez Road:
Originally from Manawan, Black Bear: Makate Masko have been on the powwow trail for 13 years. We have evolved tremendously within our group. Slowly Black Bear's family grows with the arrival of new descendants. Some of us go to school and others to work. Today our goal is to show our children and the world what we like to do, so that it continues in the generations to come. It is our duty to demonstrate perseverance (or to be an example of perseverance). We would like to share with you our songs and our Atikamekw words. Please accept our most heartfelt greetings.
Listen or buy music now!
Come & Get Your Love:
We have been interested in pow wow music since 2000 and we have never seen such a thing as a pow wow drum group working with musicians from different styles of music until now. Meeting members from A Tribe Called Red was very eye-opening for all of us. We discovered a new style of making music and we are really happy to be part of their music. This album was recorded in St-Zénon where we did two things at the same time. As a drum group, we decided to record our songs live in the studio. As for A Tribe Called Red, we recorded voices and drum separately and many other things so they can create music from there.
We would like to thank Pierre from the Wild Studio for receiving us and letting us record, Robert Todd from Tribal Spirit for his big contribution, Ian, Bear and Tim from A Tribe Called Red for their collaboration and musical sharing
Listen or buy music now!
Spring Medicine:
The Black Bear and the Atikamekw people of Manawan are inseperable from the subtle changes of the seasons. Our last album "Out of Hibernation" was dedicated to the time of year when we all come out to be reborn. We dedicate this album to the next stage of our annual process, Spring Medicine, when the Black Bear replenishes himself as he roams the land in search of medicine which will heal him after the long hibernation.
Listen or buy music now!
Out of Hibernation:
We grew up on a reserve called Manawan in mid Quebec. Our first language is Atikamekw, in school we were taught french and on the powwow tail we learned english. As a contemporary powwow group we write songs in Atikamekw which is a language under the Cree language group. Our words are very dynamic and flow very well with the drum. See if you can figure out the Atikamekw word for dance...
Listen or buy music now!